UPDATES - 7/30
There were no NEW forum updates, however, I wanted to clarify on how the RANTS forum works!

ALL RANTS ARE TO BE POSTED IN THE RANTS FORUM!! This is just to keep everything together. However, feel free to advertise your rant in the system's section! Then submit a lock request, and we'll lock your thread!

There are forum rules posted as an announcement in the RANTS forum! Rants that have been very popular could and probably will be temporarily stickied until the discussion dies down, then we will unsticky them and let them go on their own!

IF YOU DON'T FOLLOW THE FORUM RULES, EXPECT A LOCKED THREAD AND POSSIBLE ACTION TO BE TAKEN ON YOUR ACCOUNT!!!!! Possible punishments include temporary bans and mutes, or permanent bans! If I catch you trying to make another account after one is banned, I'll use the IP ban tool! SO DON'T TRY ANYTHING STUPID!

No ranting is allowed about forum mods/admins! Messages with only this topic will be locked, messages in threads about a actual rant that include a post with this topic will find that the post has been hidden! As always, please submit a report if you find that something isn't right!
Last edited by smashbrosdude91 on Wed Oct 14, 2009 3:53 pm; edited 4 times in total (Reason for editing : Unstickied)
_________________

smashbrosdude91

Head of the forum community
Need a Title Change/Move/Lock
-
Board FAQ
-
Member Submitted FAQs
-
Report a bug

smashbrosdude91

Administrator





Posts

: 205


Points

: 2751


Join date

: 2009-07-25



What is the chatbox?
The chatbox is a system like AIM chatrooms, that allows you to talk live to other members.
The chatbox is only activated by admins, and will be activated each week during a certain time. This time is TBA, so keep an eye out for when the first chat session will be.
The chatbox appears at the top of the home page when logged in...you can't miss it! Follow these instructions for getting in:
The Buttons of the ChatBox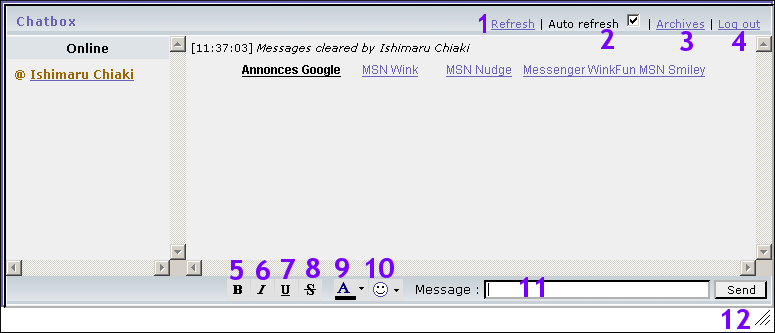 NOTE--The image is a little cut off...
1. The
refresh
button allows you to manually refresh the ChatBox
2. The checkbox
Auto-refresh
allows you to have the ChatBox automatically refreshed.
3. The
archives
button allows you to see older posts (unless the messages have been cleared)
4. The
log-in/logout
buttons is used to log-in or log-out from the ChatBox
5. The button
B
allows you to put your text in bold format
6. The button
I
allows you to put your text in italic format
7. The button
U
allows you to underline your text
8. The button S allows you to strike your text
9. This button allows you to change the color of your text
10. This button allows you to insert smilies in your texts.
11. This is where you post the contents of your message
12. This button allows you to change the height of your Chatbox.
To type a complicated username
Have you already encontered this situation when you had to talk to a specific member, but you fainted at the idea to type his super-complicated username ? In this case, it's possible to do a copy-paste of the username, but there's a way which is even simpler. You just have to click on the username, in the Online/Absent column and/or where the messages are displayed.
The right-click
Right-clicking a member's username allows you to access to a few features :

View the member's profile

Send a PM to this member

Show yourself as Away (a popup window will ask you to give a reason, it's up to you to fill in this field or not)

Leave the ChatBox (a popup wiindow will ask you to give a reason, it's up to you to fill in this field or not)

Kick a member (mods only)

Ban a member (mods only)
Mini-FAQWho are the members with the @ ?
These are members who can use the ChatBox moderation commands.
Which are the rights of the Chatbox moderators ?
the moderator members can clear the messages, kick and ban members from the CharBox. The Administrators can use these commands mentioned above, but they can also give and withdraw moderation status to a member.
What is the ChatBox's capacity ?
The ChatBox can store up to about 195 messages maximum
I can't ban a member ?
In most cases, it comes from the fact that the member to ban has moderation rights on the ChatBox. Remove them from this member then try again.
I don't see some infos in the ChatBox such as logins/logoffs, kicks and bans of members
this problem comes from the fact that you are viewing your ChatBox's archives. To have access to these infos, you just have to click on the "Without archives" link which is next to "Refresh", "Auto-refresh", etc.
My parameters (bold, colors, etc.) aren't saved.
These parameters are saved using Cookies, so make sure your browser accepts Cookies.
_________________

smashbrosdude91

Head of the forum community
Need a Title Change/Move/Lock
-
Board FAQ
-
Member Submitted FAQs
-
Report a bug

smashbrosdude91

Administrator





Posts

: 205


Points

: 2751


Join date

: 2009-07-25




Similar topics
---
Permissions in this forum:
You
cannot
reply to topics in this forum