Video Gamer's Paradise - Board FAQ
Video Gamer's Paradise - Board FAQ

Got a question about how to use the board? Well then, this is the thread for you!
I originally wrote all of the FAQs for the site in separate threads, but I think I like them all better if I combine them all together...Hence, the reason for this massive thread...Each one has different subject, and this begins below! To jump to a section, use the Table of Contents below.
All FAQs in this section are written in this parchment like theme, so you know what is/isn't a picture. And more FAQs will be added to this thread as needed!
Moderators can submit their own FAQs if they wish, but if they aren't needed they will be removed. Normal members can post their written FAQs in the Sticky in the Forum Feedback section, and I will review them over, then add them to the Member Submitted FAQ thread.
Happy Posting!


smashbrosdude91

Head of the forum community
Need a Title Change/Move/Lock
-
Board FAQ
-
Member Submitted FAQs

Can't find what you're looking for? If so, check out this thread for tips submitted by our users.

Last edited by smashbrosdude91 on Sun Jan 17, 2010 11:38 am; edited 1 time in total

smashbrosdude91

Administrator





Posts

: 205


Points

: 2751


Join date

: 2009-07-25



Board FAQ - Signature FAQ
Board FAQ - Signature FAQ
---
Each user is allowed to have a signature. This signature will be put at the bottom of each post that you post. You can make your signature have whatever you want in it, assuming that it abides by the forum rules....nothing offensive, etc.
If you find a signature that is offensive, report it as if you were reporting a normal post, however, use reason "Signature" (which I've just added). If the signature is found to be inapropriate, I will delete it entirely. If this really becomes an issue, I will turn signatures off for that account.
Mods please note -- I will deal with all signature reports.
How to Create a Signature
First, go to Profile>>Signature
You can then either type in your signature, paste in ASCII art (which is allowed as long as it is not offensive), or insert pictures. If you decide to insert pictures, you will need to specify the URL. You can not upload pictures directly to this site. I recommend that you upload your pictures to a site like photobucket or imageshack, etc. Facebook images might not work as it might think you need to login to get these, and you cannot post pictures from Hotmail/Yahoo/AOL/ or any other email provider as these usually require you to login to view them.
If you can't upload the file to one of these sites, please PM me and I can upload it to my own site and will add it to your signature. However, I have the right to take it off my site if I run out of room.

If you want the signature to automatically be posted at the end of every message, go to profile >> preferences and check "Always attach my signature" to ON.
You may not use the Moderator crowns used on this site in your signature unless you are a moderator or committed member. If I catch you, I will remove the picture from the signature and will continue to remove it if you don't stop.
If you post a signature that you copied directly off of a different website or off of a user on this site, I will delete it accordingly. Do not plagarise someone's signature. Be original, and only insert your own work! (note that getting ASCII art off of a site is perfectly ok! although it appears that it doesn't copy well.)
Questions about Signatures
Can I ever edit my signature because I don't like it anymore?
Of course! Just go in and adjust all you want, making sure that its all appropriate!
Can I be banned for having an offensive signature?
Well, yes, if you keep it up. If I constantly have to keep switching yours, I will turn signatures off for you. If you start PMing me about how I'm unfair, I will use my giant ban button and will ban your *** (edits himself out) off of my forum! Wanna see my ban button? Here it is!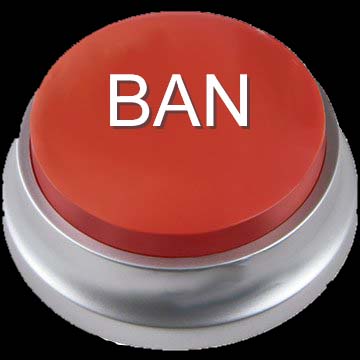 Ok ok, its not real, we get it, but that doesnt mean that I don't have an Administrator Control Panel which does have the ban controls in it!!
Is there a character limit on my signature?
Yes, the limit is 500 (this includes links!) Unfortunately, I can't change this, sorry. (any changes in the administrator panel can override this limit)
What if I'm not sure if my signature is appropriate?
Create it, send a PM to me, and I'll take a look to see if it is.
If I see someone's signature that is inappropriate, what should I do?
Use the report thread button on a post written by the questionable user, set the reason for signature, and explain. I'll take a look at it!
Is there a thread where I can show off MY ascii art?
Yes, go to the signature and ASCII art forum.
Can I use ASCII art in my signature?
Yup, go right ahead...just remember the 500 character limit!
I'm new to signatures. Is there a spot where I can learn how to make ASCII signatures on this site?
Of course (I wasn't that stupid

) Follow the link here:
SIGNATURE GUIDE!
Since we can use HTML on the forums, can we use it in our signature?
Of course! Just remember, there's still the 500 character limit!

smashbrosdude91

Administrator





Posts

: 205


Points

: 2751


Join date

: 2009-07-25



Board FAQ - Reporting FAQ
Board FAQ - Reporting FAQ
---
You probably know that there are some people who decide to go agains the rules and post something bad. With the reporting system, you can send a report to moderators and administrators about the post for action to be taken. Note that you can't report admins!
You must supply a reason when reporting. Current reasons are:
Flaming/Spamming Threads
Offensive Language
Violating Forum Rules
Excessive Bumping
Gives hints and cheats without spoilers
Copying from other websites (include website in report)
Mod intervention needed (if rules are broken multiple times in multiple posts by the same author)
Signature
Offensive Video
Other (define clearly in report)
You can send a report by clicking on the report post button (its in the top right hand corner of each post, and looks like this:
)
MAKE SURE YOU ARE REPORTING THE SPECIFIC POST THAT IS VIOLATING RULES!
Please give as much details as possible when giving your report. This way we know exactly what to look for. After you have finished, click save, and the report is sent to me and all the other moderators. You will be PM'ed after we take action, and I will award points in another PM.
If I find that offensive language is really taking over, I will activate the word censor tool. I really don't want to have to do this, but I will if people don't take the rules seriously!
Unfortunately, there is no way for guests to report unless they register. Also, you are not able to edit your reports, and you are not able to report your own post (that would be pretty stupid).
Being a good reporter is just one way to increase the chances of becoming a forum mod, so I recommend that you do so whenever you feel the need to.
Points and the Reporting System
If you submit a report that causes us to take action, you will earn 10 points. If the report is valid, but we don't feel the need to take action, you will get 5 points. If your report is completely wrong, we will give you no points, and if you continually keep submitting false reports, I will turn the reporting feature for your account off. DONT ABUSE IT!
More information about the points system can be found in the Points System FAQ, which is further below.
Questions about Reporting
What are possible punishments on the forums?
These can vary from being muted/banned for a few days, or being banned permanently! It can also lead to an administrator turning certain features off on your account (EG. the right to post) or loss of rank (EG. losing Committed Member status). It is very important that you follow all the rules, keeping the forum safe and appropriate for everyone!

smashbrosdude91

Administrator





Posts

: 205


Points

: 2751


Join date

: 2009-07-25



Board FAQ - Private Messaging
Board FAQ - Private Messaging
---
All messages that are sent to you from this forum board and the administration will only sent via Private Messages. The only messages that are not PMs are newsletters, and I will only send those out if there is going to be major downtime or a major announcement. To see Pms, click the

button. Also, you may see a popup message show up and an email sent to your inbox about private messages alerting you that they are there. Please set your popup blocker to always show popups from this site.
How to Private Message Someone
How do I use the PM section?
Um....its pretty self explanatory, go ahead and check it out!

Can I PM other users?
Of Course! Just input their name into the "Username" box or click the PM button under their name on the right.
What if I don't see the PM button?
Go look in the News and Announcements forum, there is a sticky with instructions.

smashbrosdude91

Administrator





Posts

: 205


Points

: 2751


Join date

: 2009-07-25



Board FAQ - Special Users
Board FAQ - Special Users
---
As with all forums, there are always some kind of special users with special priveledges. I have defined these in greater detail below.
An administrator is the creator of the board. They have the ultimate priveledges of being able to do everything and anything they want. There are only 2 admins: me, and the generic "admin" account created when I made the forum. NO ONE ELSE WILL EVER BECOME AN ADMIN!! SO DO NOT ASK!!

An admin is defined by the words administrator underneath their name, a gold crown underneath their name, and their name in yellow.


A moderator is a normal user who has the power to lock, sticky posts, edit posts, move posts, etc. You can apply to become a moderator by doing so in the "Usergroups" menu. However, do not be saddened if for some reason you do not become one right away. I always have reasons behind things!

A moderator is defined by the words "Forum Moderator" underneath their name, a green crown underneath their name, and their name in green. Upon becoming a forum moderator, you are awarded 100 free points.


A committed member is someone who is very active in the forums and someone who I consider to be a vital part of the forum community. The only extra priveledges that this user gets is the ability to see the "Committed Members" forum invisible to normal users. No other priveledges are given. BEFORE APPLYING TO BE A COMMITTED MEMBER, YOU MUST HAVE AT LEAST 100 POINTS!! For information on how to earn points, see the Points system post below this one. Once again, you apply through the Usergroups button.

A committed user is defined by the words "Committed Member" underneath their name, a blue crown underneath their name, and their name in blue.


Technology Experts are those who are very knowledgeable and helpful in the Need Technical Help forum and have earned moderation rights in that forum. Their power only resides in the Tech Forum, and they have NO power anywhere else on the forum. Their name is in Orange, has the words "Technology Expert" under their name, and an orange crown next to their name.


Members now have silver crowns next to their name. I couldn't find a good use for it, and because the sidebar text is already grey, it worked out well.
Questions about Special Users
How do I join a special group?

You can apply through the button at the top of the screen. This will send a message to the board administrator, who will look into it. You will recieve a private message detailing whether you were accepted or denied. Do note that you might recieve your priveledges before you get the "Rank".....the crown and "Forum Moderator" rank take a little while to process (and that's not my fault).

smashbrosdude91

Administrator





Posts

: 205


Points

: 2751


Join date

: 2009-07-25



Board FAQ - Points System
Board FAQ - Points System
---
The points system is the system used to determine if you can become a "Committed Member", and it shows how active you are on the forums. Point values are listed below:

For each "New Topic" you post, you earn yourself 3 points.

For each reply to a post you post, you earn yourself 1 point

For each successful report a post you send in, I will add 10 points to your total.
If you post in the "Help! I need a mod!" thread, or in the hidden "Committed Members Center" or ""Forum Mods Center", you earn no points (no unfair advantages there).
Is it possible to get Extra Points?
Each time you send in a report a post request, we will look into the report, and take action if necessary. If action is necessary, you will earn 10 points. However, if no action is necessary, you only get 5 points, and if you report a post that is not bad in any way, you get 0 points, and could end up having points taken away from you. Please use the reporting system wisely.
Upon being accepted as a Committed Member, you are given a free 50 points (for no reason really). However, before you apply to become a committed member, YOU MUST HAVE AT LEAST 100 POINTS!!!!!!! Please do not post spam randomly to earn your points, as I can (and will) remove points from people who do that.
Upon being accepted as a Forum Moderator, you are given a free 100 points (also for no reason). Before applying to be a forum mod, make sure that you are on often, and that you are an active part of the forum community.
Please note that Administrators are automatically given over 2000 points. If someone catches up (very unlikely), the admins will gain more points.
I am hoping to at some point add another module called the reputation system, which allows users to rank people's posts. However, I will wait until the forum becomes active before I add this module in.

smashbrosdude91

Administrator





Posts

: 205


Points

: 2751


Join date

: 2009-07-25



Board FAQ - Chatbox
---
The chatbox feature is a feature like AIM that allows you to chat with other members of the forum ON THE FORUM BOARD!
The chatbox feature can only be opened or closed by the board administrator (me!)....I will be holding weekly sessions in the chatbox at a soon to be determined time! To see when the next session will be, check out the scrolling announcement bar on the top of the screen (I will try to make that announcement be the first one displayed!)
All forum moderators will also be chatbox moderators, although there really isnt much they can do. However, you can be banned from the chatbox for inapropriate languate, etc. You can also be kicked from the chatbox at any time!
The chatbox, when activated, will appear at the top of the homepage (before the forums). To get in, just click the "Login" button on the chatbox and you will be instantly logged in! However, you must have already signed in normally. You cannot see the chatbox if you are not signed in.
To see when the next chatbox session is, go back to the home page and read the scrolling announcements bar!
How do I use the Chatbox?
First, sign into the site and then enter the chatbox. The screen below should appear.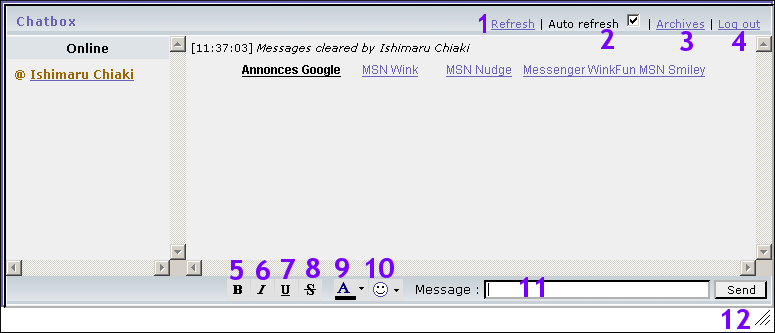 Click the image for a larger preview
The numbers correspond to these functions:
1. The
refresh
button allows you to manually refresh the ChatBox
2. The checkbox
Auto-refresh
allows you to have the ChatBox automatically refreshed.
3. The
archives
button allows you to see older posts (unless the messages have been cleared)
4. The
log-in/logout
buttons is used to log-in or log-out from the ChatBox
5. The button
B
allows you to put your text in bold format
6. The button
I
allows you to put your text in italic format
7. The button
U
allows you to underline your text
8. The button S allows you to strike your text
9. This button allows you to change the color of your text
10. This button allows you to insert smilies in your texts.
11. This is where you post the contents of your message
12. This button allows you to change the height of your Chatbox.
To Type a complicated Username...
Have you already encontered this situation when you had to talk to a specific member, but you fainted at the idea to type his super-complicated username ? In this case, it's possible to do a copy-paste of the username, but there's a way which is even simpler. You just have to click on the username, in the Online/Absent column and/or where the messages are displayed.
Right-clicking a member's username allows you to access to a few features :

View the member's profile

Send a PM to this member

Show yourself as Away (a popup window will ask you to give a reason, it's up to you to fill in this field or not)

Leave the ChatBox (a popup wiindow will ask you to give a reason, it's up to you to fill in this field or not)

Kick a member (mods only)

Ban a member (mods only)
Questions about the Chatbox
Who are the members with the @ ?
These are members who can use the ChatBox moderation commands.
What are the rights of the Chatbox moderators ?
The moderator members can clear the messages, kick and ban members from the CharBox. The Administrators can use these commands mentioned above, but they can also give and withdraw moderation status to a member.
What is the ChatBox's capacity ?
The ChatBox can store up to about 195 messages maximum
I don't see some infos in the ChatBox such as logins/logoffs, kicks and bans of members
This problem comes from the fact that you are viewing your ChatBox's archives. To have access to these infos, you just have to click on the "Without archives" link which is next to "Refresh", "Auto-refresh", etc.
My parameters (bold, colors, etc.) aren't saved.
These parameters are saved using Cookies, so make sure your browser accepts Cookies.
I get a script error repeatedly when using the chatbox.
This is because the administrator has closed the chatbox. Click the logout box in chatbox, then refresh your browser. The chatbox should be gone

smashbrosdude91

Administrator





Posts

: 205


Points

: 2751


Join date

: 2009-07-25



Board FAQ - Posting FAQ
---

Most of you reading this are wondering, "why is he posting this. Isn't posting the easiest thing possible?"

Well, sure, i guess it is, but here's a couple of pointers-

--With HTML enabled, you can now do more to your threads. If you're interested, scroll on down to the Off Topic Forum Category and click on HTML section! (which has a picture of a wrench), read the guide, and try it out in the "try your HTML" sticky!

--Certain sections can be extremely busy. To make sure that someone doesn't post on your thread while you are posting it using multiple posts, make the first post say "Reserved, DON'T POST YET!!", then quickly make a succession of posts with the words reserved in them, so that you have plenty of room. If after you are done, you have extra reserve posts, you can ask for them to be deleted, or you can leave them for future use.

--Another option is that you can type up your post in a text editor, then copy and paste quickly into multiple posts until you are done.

--Mods and admins can lock their posts once they begin, then can unlock them once they're done. To create a new post on a locked thread, mods can click on the "Locked" button at the top. If normal members try this, they get a permissions error.

Remember, if things get out of hand, post on the Help! I need a mod! sticky and we will do our best to help!

--Some posts by me and by forum mods have a parchment background (like this specific post!). Creating this was extremely hard, and therefore, I will not be sharing this code with others (although if you're smart, you should be able to figure it out on your own). Mods DO have access to this code. If you want to experiment with other backgrounds and such, go right ahead in the "Try out your HTML" sticky in HTML Section.



smashbrosdude91

Administrator





Posts

: 205


Points

: 2751


Join date

: 2009-07-25




Similar topics
---
Permissions in this forum:
You
cannot
reply to topics in this forum